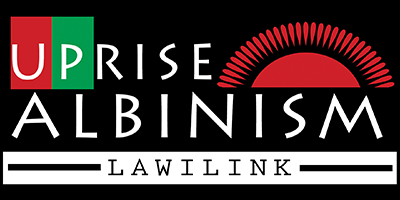 UPRISE ALBINISM
The Idea click me
Transform Malawi into the heart of Africa where persons with albinism can live without fear of discrimination with access to education, health care and support services.

LAWILINK
Lawilink founded by Zac Darkes is a media non-partisan, non-governmental organization established and registered in February 2015. Lawilink is a sister organization to Zimlink. The core business of Lawilink is to empower and civic educate the masses through high quality low cost media services. Lawilink supports grass roots organisations & communities utilising; film production, websites, social media & articles while promoting the rights of the citizenry. Lawilink is representing the marginalized regardless of social status in the society.
---

UPRISE ALBINISM
Uprise Albinism, born from Lawilink activities and Zac Darkes passion for change in Malawi. We created an extensive nation wide programme to end the Abuse persons with albinism suffering in Malawi. Together with your help we can end the discrimination of our brothers & sisters. Provide medical assessment, care and education. We have the power in our hands to transform a nation & create a brighter future. Uprise Albinism offers a long term solution created through a love and passion of life.
---
UPRISE ALBINISM
Lawilink has created the Uprise Albinism community road show, the aim of which is to educate the local population, treat people with albinism, pre-empt treatment for the conditions likely to affect them and teach the importance of education. The idea behind the project is to host over 128 festivals in all 28 districts of Malawi, 4 festivals a week for 32 weeks r 2016, touring them with a local university Dean, A Dermatologist with a mobile treatment clinic, a nurse, 3 dancers, 2 singers, 4 administrators & 2 project organisers. In addition to this, we will compile a database of people with Albinism for use by the Malawian Government & police force. So far, Lawilink has hosted one festival in the Phalombe district of the Southern region with huge success. In total just over 3500 people attended, 12 of them being persons with Albinism. The set-up of the festivals include traditional dancers & live performances from local hip/hop & soul singers, as well as local chiefs & MPs. The festival featured in the National newspapers and was hailed a victory by Amnesty international. We had local teachers & doctors come on board with us to both treat the persons with Albinism and teach the importance of education and inclusion to the crowd. By expanding the project to include all districts, we plan to engage with over 7000 persons with albinism & on average reach 2500 people with each festival totalling nearly 300,000 people.
"it is not hard to change things,
What's harder is making the decision to do it."
Zac Darkes CEO Founder